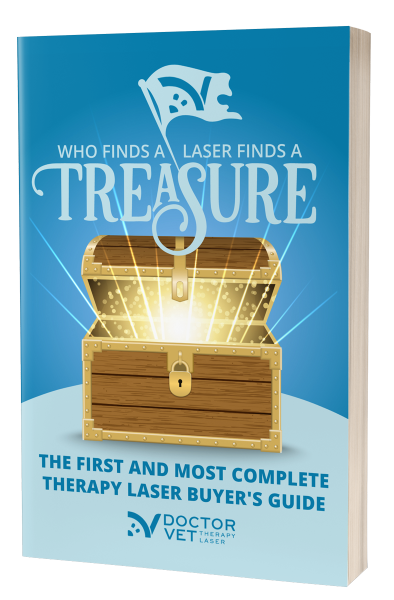 DOCTORVET:
WHO FINDS A LASER
FINDS A TREASURE
THE FIRST AND MOST COMPLETE
THERAPY LASER BUYER'S GUIDE
If you are here, it means that you are considering the purchase of a veterinary therapy laser equipment. Be careful, though, since on the market there are many lasers developed for human therapy and thereafter adapted, somehow, to animals. As you can imagine, these adapted pieces of equipment are not ideal for veterinary use.

DoctorVet is instead the only laser device conceived, developed, and manufactured for veterinarian use only. Behind the scenes, an international team of engineers, physicists, and veterinarians, have given birth to DoctorVet, which is 100% made in Italy and market leader in the USA.
DID YOU KNOW THAT DOCTORVET FEATURES 3
WAVELENGHTS AND AN AIMING BEAM?
Thanks to the interaction of these with melanin, hemoglobin, and cytochrome-c oxidase,
DoctorVet delivers four main clinical effects:
HOW TO CHOOSE AN EFFICIENT
LASER FOR YOUR CLINIC
Find out below the characteristics that a veterinary laser therapy device must have:
Veterinary Laser Therapy can be performed inside the veterinary clinic as well as outside, on the field.
Battery duration matters when the traffic in the clinic is high and there are no chances to plug and charge the device while in use.
A good VTL device comes with protective eyeglasses for users. These eyeglasses
are certified medical devices.
Modern Class IV lasers are based on Android. Android has become the standard OS for the mobile phone industry in the last decade and recently for pads and laptops.
Thanks to Wi-Fi, you can keep your device updated by automatically download the software updates.
Veterinary Laser Therpy devices may offer an on-board dashboard for statistics.